The Missing Link In Chiropractic And Other Healing Arts
I Will Teach You How Healing Actually Works So You Can Get Infinitely Better Healing Results
– Dr. Peter Goldman, Founder of Zone School of Healing
The Missing Link In Chiropractic And Other Healing Arts
I Will Teach You How Healing Actually Works So You Can Get Infinitely Better Healing Results
– Dr. Peter Goldman, Founder of Zone School of Healing
Zone School is an online program for chiropractors, and well as other doctors and healers of all kinds. 
Our members include chiropractors, naturopaths, acupuncturists, osteopaths, MDs, Reiki practitioners, massage therapists, etc. 
Zone School teaches The Zone Technique, which is a spinal cord stimulation technique for brain healing. Also taught are the highest principles of healing, which can be applied to any healing art. 
The unparalleled healing results speak for themselves. 
There are also optional live events, most of which are open to Zone School members and non members alike. 
Check out this intro video by Zone School founder, Dr. Pete Goldman, DC.
"Dr. Peter Goldman is one of the most powerful chiropractors and healers I have ever known. I have observed him transform peoples' lives. People come to Dr. Pete with multiple health issues and leave empowered and feeling better. Whether you have become frustrated and hopeless, or want to take your health to the next level, Dr. Pete can provide the solution with astonishing outcomes. After studying under him, the results I see in my office are better than I could have ever imagined."
– Dr. Ryan Gessay, D.C.
I've been in zone school for two years now. Easily the best decision in 20 years of practice. Going to my first event in Las Vegas was an eye opening game changer to say the least.
~ Dr. Josh L.
I was in constant pain, especially if I tried to train. Nothing I had tried to heal myself had worked at all. After only 3 Zone adjustment sessions with Dr. Pete (which took about 2 minutes each!), my neck was 100% healed and has remained that way. I can't believe it.
~ BJ Penn, UFC World Champion
This is the best decision I have made in over 21 years of practice. The results I've been getting with conditions you would think chiropractic would not be able to help has been extraordinary. You also get quicker, better results with neck and back pain, too. This will be my fourth Zone live event this year. It's well worth the investment and I learn something new each time.
~ Dr. Frank K.
The Zone School founder has had patients flying in to see him from over 25 countries and cities around the world for over 20 years because of the unparalleled healing results.
The Zone Technique teaches you
The most effective way to know the body & help the body heal.
The principles of healing at the highest level available.
The far and away most effective way to address musculoskeletal & non-musculoskeletal issues
Albert Lim, Jiu Jitsu athlete from Malaysia, traveled all the way to the USA just to get Zone sessions from Dr. Pete. These quickly saved his career as well as the careers of many of his friends in Malaysia who also traveled to see Dr. Pete. He talks about it here on this Grappling Central Podcast interview. Give a listen:
Dr. Pete Goldman explains Zone Technique on Ickonic News Show
Set Up Your Discovery Call for answers to questions like these….
What does the course include?

How long does the course take?

How is Zone Technique different from other

Chiropractic and healing techniques?
Watch This Free Webinar
to Learn:
Why healing works when it works & why it doesn't when it doesn't.
How to have confidence working with musculoskeletal and

 

non-musculoskeletal conditions
The 6 things that go wrong with the body & what you can do with them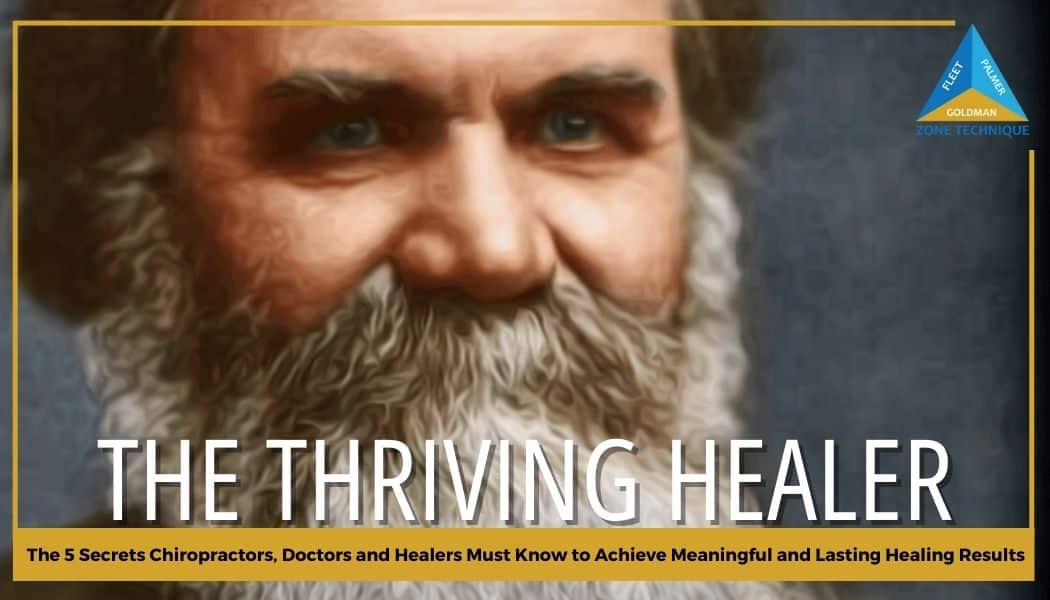 Why Do You Need The Zone Technique?
Zone School of Healing is an online program that helps chiropractors and other doctors and healers to massively increase their confidence and greatly improve the healing results they help their patient's achieve. The School was originally created for chiropractors only, but now also includes osteopaths, acupuncturists, naturopaths, homeopaths, medical doctors, energy healers, bodyworkers, etc. All members of Zone School are taught the Zone Technique of healing as well as the principles of healing at their highest level.
We have Zone School chiropractic members who are already trained in Gonstead, CBP, Network, Thompson, Upper Cervical, Motion Palpation, AK, Chiropractic Neurology, SOT, Functional Medicine, etc, etc. These doctors are now blown away by what they are learning and are getting results on a whole new level. Whether one suffers from pain, headaches, poor digestion, restless sleep, weak focus, low energy, or immune system issues, balancing the Zones of the body can help one to heal. Studying the knowledge in Zone School can also make you much healthier.
Be happy, motivated, and enthused to go to work.
San Francisco Bay Area • Advanced Live Event
This event is for Zone School Members Only
---
December 9, 2023
Saturday 9:00am-5:00pm
Ft. Lauderdale, FL • Mastermind Weekend
This event is for Zone School Members Only
---
January 20 – 21, 2024
Saturday 9:00am-5:00pm
Sunday 9:00am-1:00pm
Boston, MA • Live Event
This event is for Zone School Members and Non Members
---
February 24 – 25, 2024
Saturday 9:00am-5:00pm
Sunday 9:00am-12:00pm
Chicago, IL • Live Event
This event is for Zone School Members and Non Members
---
March 9 – 10 2024
Saturday 9:00am-5:00pm
Sunday 9:00am-12:00pm
Omaha, NE • Live Event
This event is for Zone School Members and Non Members
---
April 27 – 28, 2024
Saturday 9:00am-5:00pm
Sunday 9:00am-12:00pm
Nashville, TN • Mastermind Weekend
This event is for Zone School Members only
---
May 18 – 19, 2024
Saturday 9:00am-5:00pm
Sunday 9:00am-1:00pm
Zone School Of Healing / Life University Certificate Program 
Find a Zone Certified Practitioner Near You